FLEET SERVICE
As part of our commitment to provide an efficient, reliable and quality tyre service, we can offer, via our service vehicles:
24/7 Emergency Roadside or onsite service
Perfect for puncture repairs or replacing a flat or damaged tyre.
So you can keep moving.
Call us on 3277 0080.
On-Site Fleet Management
On a scheduled basis, our trucks can call to your yard or work place to pressure check/inspect/repair or replace your tyres.
Call us to discuss your needs and join our list of customers who enjoy the time-saving convenience of on-site servicing.
Let Samios Tyres reduce your vehicle down time through our on-site fleet service or emergency roadside service.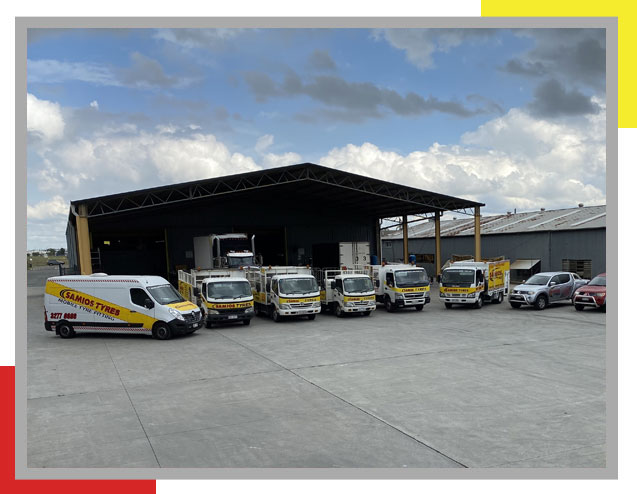 FLEET TYRE MANAGEMENT SERVICES: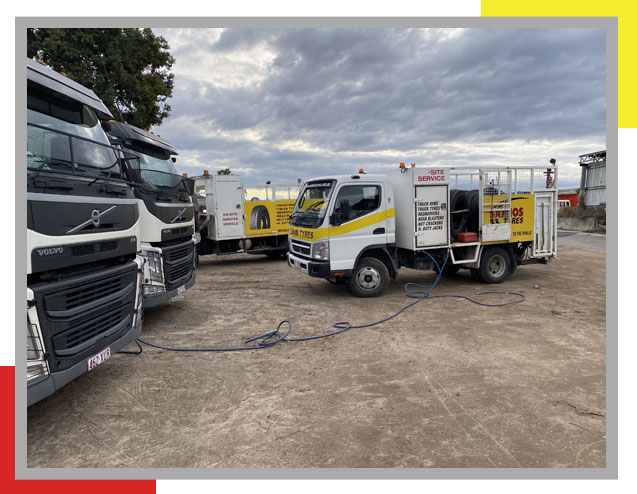 Fittings & Rotations:
The correct fitting of tyres is more important than many people realize. Without correct fitting, the tread shape or footprint of the tyre on the road could be deformed, and not run as it is supposed to. This could lead to rapid, uneven and irregular tyre wear and could cause vibrations and noise.
Just as importantly, rotating of tyres helps to maximize tread life. Tyres can be rotated up to 3 or 4 times during the life of the tyre to achieve increases in tread life which could be up to 50% extra compared to a tyre left in its original position on the truck or trailer. We also use tyre changing machines as not to scratch our clients rims. We pride ourselves on looking after our clients investments.
Electronic Balancing:- Car, 4WD, Light truck
Correct balancing of steer tyres for smooth running helps with increased comfort and smoothness for the driver and better, safer steering performance from the tyres – a vital factor. Just as importantly, a smoother running steer tyre which has been balanced can help prolong the life of the tyre by avoiding vibrations that may contribute to irregular and rapid tyre wear.
Puncture Repairs:
It is an unfortunate reality that truck tyres are subjected to damage from external factors (eg. bolts, screws etc) and that a puncture repair may be required. Our fitting department and service trucks are equipped to carry out most puncture repairs to get you back on the road again. (Puncture repair is dependent upon the size and location of the damage on the casing.)
Wheel Alignment:- Car, 4WD, Light truck
A wheel alignment ensures your wheels are correctly aligned, and is one of the most important ways to maintain your vehicle. Prolong the life of your tyre investment with our wheel alignment service.
Pressure Checks:
Pressure checks and maintaining correct pressure are the simplest and most important factor in helping tyres to run well and last longer. The correct pressure in tyres is vital to allow the tyre to carry the heavy weights expected of it in the transport applications and to perform the function for which it was designed (eg. truck steer tyres require more pressure than drive or trailer tyres in order to brake/steer/turn correctly). Every truck should be subject to regular, scheduled tyre pressure checks and Samios Tyres can help with this simple, but important procedure.
Disposal of Tyres:
We dispose of all tyres responsibly through registered and accredited tyre recyclers.